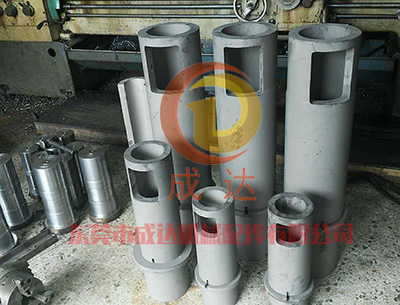 Dongguan Chengda Machinery Parts Co., Ltd., is located in the industrially developed Pearl River Delta, Dongguan City; , Vacuum heat treatment, vacuum nitriding, maintenance is an integrated modern technology enterprise.
Our company has a group of experienced die-casting machine parts processing technical team and sales team, as well as high-precision production equipment, including CNC lathes, automatic lathes, milling machines, grinding machines (internal and external cylindrical grinding), vertical grinding, Wire cutting, boring machine, gantry milling machine, vacuum heat treatment furnace, vacuum nitriding furnace, quenching furnace, etc. The production capacity is greatly improved, various production tasks proposed by customers can be completed quickly, the product quality is more guaranteed, and the delivery time is more punctual.
Processing, production and sales: die-casting machine accessories, Lijin, Yizumi, Fulai, Buhler, Hishinuma, Zizuka, Xingxing, Chenfeng, Weitai, Yousheng, Xinhong, Mingcheng, Zhen Gao, Noda, Ube, Toshiba Toyo, Baoyang, etc. 15T-650T hot chamber zinc and magnesium alloy die-casting machine: material pot, nozzle body, nozzle head, piston ring, hammer head, heating sleeve, heating cake, temperature control rod and other accessories; 125T-4500T cold chamber aluminum, magnesium alloy : Barrel, plunger head, injection rod, connector, plunger oil, crucible, release agent, spray gun, pellet oil, melting furnace, pellet machine, manipulator, mold accessories: firing pin, firing pin sleeve, etc.; die-casting Machine maintenance, material pot replacement, etc.; the company has a complete and scientific quality management system. Integrity, strength and product quality have been recognized by the industry. Friends from all walks of life are welcome to visit, guide and negotiate business.
Relying on its professional level and mature technology in the field of die-casting machine parts, as well as its diversified information advantages in the Pearl River Delta, Chengda has absorbed foreign advanced processing, heat treatment, and nitriding technologies. After years of technical practice, research and development and innovation, parts The service life is equal to the service life of imported parts. The die-casting machine parts produced by our company are sold all over the country and exported to Vietnam, Singapore, India, Malaysia, Uzbekistan and other countries.
Chengda adheres to the rock-solid quality, continuous improvement, and attentive service business philosophy, and strives to create the same quality direction as foreign imported die-casting machine parts.